I went down to Tampa/St. Pete for
Fixed Fight II
this weekend. Unfortunately, I went down Hankless. It was a total bummer, but circumstances beyond our control were abundant. Before I headed down, I made some equipment changes. I made these last weekend before the Bikes to Rwanada race, but I had some trouble with my chainring and didn't clear it up in time to race. Anyway, I added some old drop bars Hank gave me and I got a new chainring from
No Brakes
.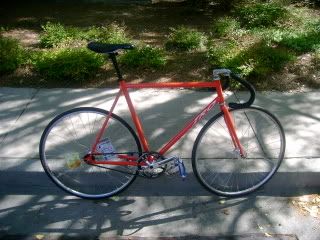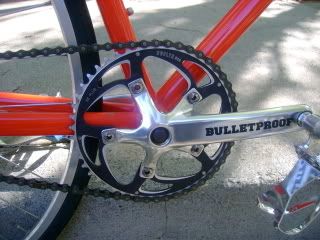 Both the drop bars and chainring are kind of cheap filler parts till I get some dough for better parts. I'm looking to go with all black hardware. After this weekend seeing all the decked-out bikes down in St. Pete, I am excited to start working on my bike. I need a new wheelset, headset, crank, stem and bars. I stopped by
66 Fixed
in St. Pete and picked up some Krog lights. The store has great gear, and the owners are super nice.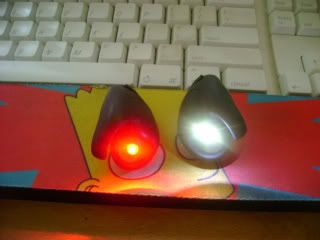 Alas, I came in 45th in the race, which was about as fast as I could go. I ended up sticking with Chris and Jen, whom I rode with in the Broken Hearts race up here. I couldn't believe I kept up with them. I'm glad I did, though. There was no way I would have found any of the check points without following them. I picked up my second spoke card.
There is an alleycat this weekend for Skid Row III. I'm planning on riding, but we will see how it all works out.