So, the SOPO race was an absolute blast. Hank was my partner, and we rode with Chris, Jen, Pam, and Grace all who came up from St. Pete for the race. Unfortunately, I didn't bring a bag (mainly because I don't have one), so I didn't bring my camera and don't have any pictures. Part of the last checkpoint was getting a prom-style picture taken complete with tux and dress, so as soon as I have that, I will be putting that out for the world to see. While I don't have any pics yet, I did map our race route at
Map My Ride
. Not the most efficient route, but it was good times. Especially riding through downtown on a Sat. night.
Before the race, I did manage to make it to
No Brakes
to pick up some much needed gear. I got a mini U-lock and Fabric Horse holster. I have been meaning to get one of these for a while now as I haven't been able to go for extended rides without relying on others for bike locks and whatnot.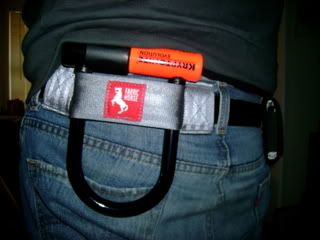 Also, much needed, I finally got new toe clips. I bought my bike from a friend and she had medium clips on there. I have been using them up till now, but I wear a size 14 shoe, and that is definitely out of the medium range. I threw some XLs on there, and it made so much difference. My toes didn't go numb during the race or anything.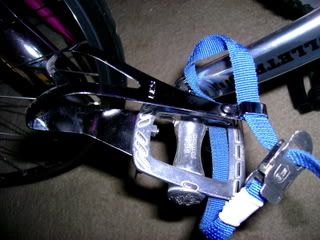 Edit: I found these sweet pics of Hank and Chris giving the ol'
stink eye